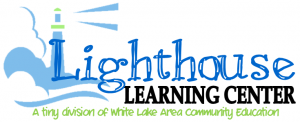 A Guiding Light to a Love of Learning
---
NOW ENROLLING FOR FALL 2020!
Tuition Preschool - We are currently accepting registrations for 2020-2021 Tuition Preschool at our Whitehall location.
Before/After School - We are currently accepting registrations for the 2020-2021 Before/After School program. Don't delay! Spots are filling fast!
Enroll in our Tuition Preschool!
Lighthouse Learning offers high quality tuition preschool for three- and four-year olds at McMillan Early Childhood Center (Reeths Puffer), North Muskegon Elementary (North Muskegon), and WLCC (White Lake Community Center) in Whitehall.
We proudly provide a method of education that is based on self-directed activity, hands-on learning and collaborative play. In our classrooms, children make creative choices in their learning, while the classroom and the highly trained teacher offer age-appropriate activities to guide the process. Our staff have a great love and respect of the child, providing a safe, secure environment in a fully licensed room.
Now offering Before and After School Programs at nine sites!
WLACE Lighthouse Learning has wonderful relationships with five of Muskegon County's school districts. For your convenience, we open at 6:30 a.m. and close at 6:00 p.m. We offer flexible schedules to ensure your family's needs are met. Because our sites are located within school buildings, transportation is not needed between our sites and your child's school - they simply walk down the hall! We offer care on early release days, half days, snow days and non-school days. We provide healthy snacks, art projects, reading and homework time, Stem Activities (RRO and WLCC), YMCA (Central and RPEL), free time and plenty of outdoor time!
ENROLL FOR 2020-2021 PROGRAMS NOW!
Tuition Preschool is offered for 3- and 4-year olds at the following sites:
North Muskegon - North Muskegon Elementary
RP - McMillan Early Childhood Center
Whitehall - White Lake Community Center
Before and After School is offered for 3-12 year olds at the following sites:
Holton - District Services Building (ages 3-12)
Montague - RRO Elementary (ages 5-12)
Montague - MACC (ages 3-5)
North Muskegon - North Muskegon Elementary (ages 3-12)
Reeths Puffer - Central Elementary (ages 5-12)
Reeths Puffer - McMillan Early Childhood Center (ages 3-5)
Reeths Puffer - Twin Lake Elementary (ages 5-12)
Reeths Puffer - Reeths Puffer Elementary (ages 5-12)
Whitehall - WLCC (White Lake Community Center) (ages 3-12)