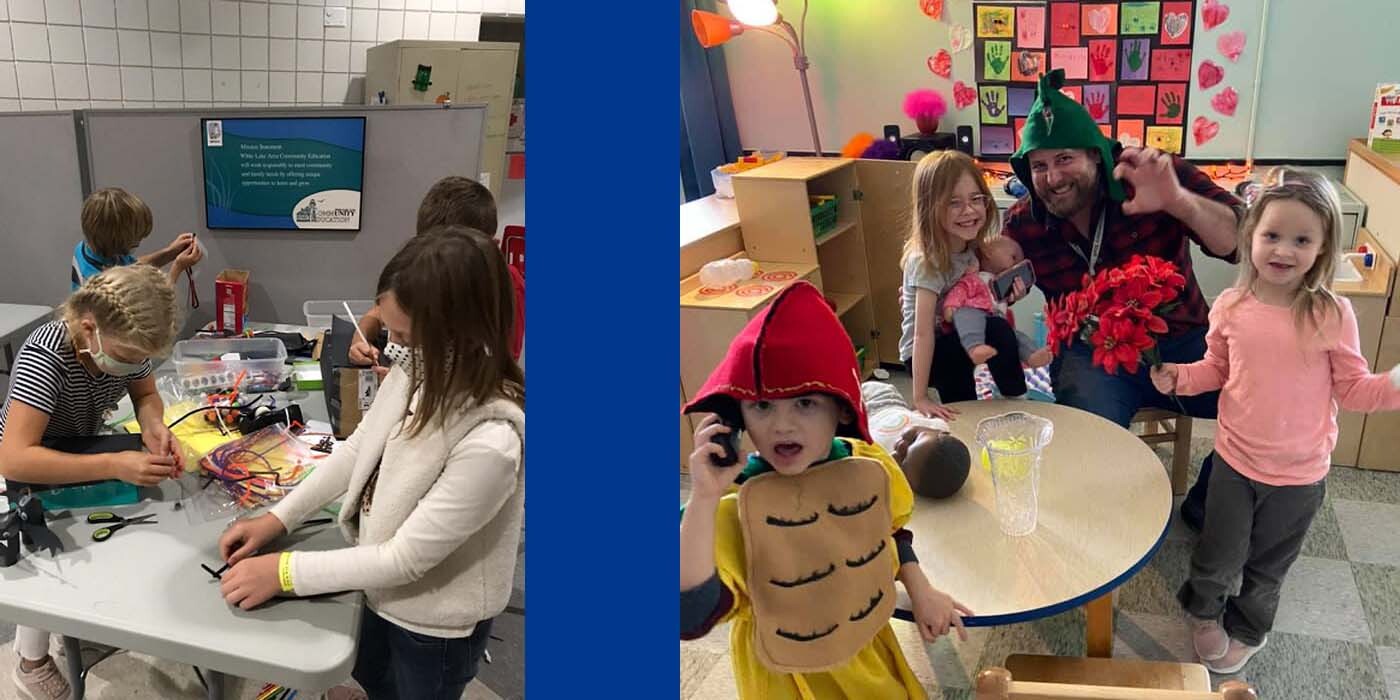 Montessori GSRP
Are you interested in enrolling your four year old in a Montessori pre-school classroom next year?
We are exploring the possibility of opening one or more Montessori rooms for the 2023-2024 school year. The program will be free for eligible four year olds and there will be a tuition option for those students who do not meet income eligibility requirements.
For more information please call Susan Mulvey at (231) 893-0515 ext. 2510 or email her at: susanmulvey@wlace.org
Seniors at the VAC
If you are a senior (60+) from the City of Whitehall, Whitehall Township, White River Township, Blue Lake Township or Fruitland Township, make sure you come into the VAC and pick up your free VAC Access card.
Check our calendar or Seniors at the VAC web page for an up to date schedule of activities and events.
You may also register for classes and events through this link: WLACE Registration Page
Our Mission...
White Lake Area Community Education will work responsibly to meet community and family needs by offering unique opportunities to learn and grow.
Working collaboratively with community members, community service agencies, municipalities, colleges, businesses and other partner organizations, WL community education provides programs and services designed to improve the quality of life in our community. Our focus is on supporting and strengthening community and family.
WLACE operates under a cooperative agreement between Whitehall, Holton, Montague, North Muskegon and Reeths-Puffer school districts.
Upcoming Events

Calendar:

Seniors at the VAC

Calendar:

Seniors at the VAC

Time:

8:00 AM to 11:00 AM

Calendar:

Seniors at the VAC

Calendar:

Seniors at the VAC

Time:

10:45 AM to 11:45 AM

Calendar:

Seniors at the VAC

Tai Chi with Mary Ann is a slow meditation on motion that helps improve stability, balance and flexibility. Tai Chi is welcoming to all ages and fitness ranges. Class can be done in a seated position in a chair or by standing.

Participants are welcome to join the class at anytime and are encouraged to attend as often as possible to receive the most health benefits. This class is great for all fitness levels.

Mary Ann Bush is the instructor and has been a Tai Chi instructor for 13 years and a fitness instructor for over 23 years.

Dates:  1/24/23 through 3/23/23

Time:  10:45 AM-11:45 AM

Fee:  Varies

Registration link:  

https://www.wlace.com/insight/registry/classinfo.asp?courseID=9250&catID=1871

For help with registration or questions contact Kathleen English at (231) 893-0515 or kathleenenglish@wlace.org

Lunch and Learn for Seniors at the VAC

Time:

11:30 AM to 1:00 PM

Calendar:

Seniors at the VAC

Most of us can't imagine what life would be like without the ability to read, but the fact is, tens of thousands of adults in Muskegon County can't read well enough to fill out job applications, help their children with school work, or manage their health.  Since 2005, Read Muskegon has been offering literacy tutoring and small group classes for adults and children throughout Muskegon County, including adults incarcerated in the county jail. By doing so, Read Muskegon is building healthier families, more productive workplaces, and stronger communities.

Come and join us for lunch and a presentation by Melissa Moore, Executive Director of Read Muskegon.  Melissa will share what Read Muskegon is doing in our county to reduce illiteracy in Muskegon County.

What is their impact in a typical year? 250 adults received individualized instruction, 85 volunteers contribute over 2,700 hours of their time helping people read.  3,000 adults and children are reached through events and community outreach, 4,000 books and other resources are distributed to families and more! 

This is a free luncheon to the following participating municipalities

:

Blue Lake Township
City of Whitehall
Fruitland Township
White River Township
Whitehall Township

If you are not a part of the Senior Millage Participating Municipalities, the cost of lunch is $7.00 per person and is payable upon registration.

Date:

 Thursday, March 23, 2023

Time:

 11:30 AM-1:00 PM

Location:

 VAC Community Room

Registration:

 VAC with a deadline of Thursday, March 16, 2023

For more information, contact Kathleen English/Enrichment at (231) 893-0515 or email: kathleenenglish@wlace.org

Time:

12:30 PM to 2:30 PM

Calendar:

Seniors at the VAC

Calendar:

Seniors at the VAC

Hannah Jurcich is a trained yoga instructor through Yoga Alliance. She has been teaching in the White Lake area since 2015.

Her gentle yoga classes explore range of motion, flexibility and some strengthening exercises. Yoga practitioners of all levels will find ways to get what they are seeking out of each class with the possibilities for modifications in each shape. Come, relax, rest and connect to your body in this gentle yoga series.

Please bring a mat, water bottle and silence your phone for each session to allow yourself to focus.

Dates:  3/2/23 through 3/30/23

Time:  6:00 PM-7:00 PM

Where:  VAC in Room 303

Class ID:  K39

Registration link:  

https://www.wlace.com/insight/registry/classinfo.asp?courseID=9231&catID=1869

Price:  Varies by age and municipality

For more information or to register over the phone call Kathleen English, Enrichment Coordinator at (231) 893-0515 or email:  kathleenenglish@wlace.ro

Time:

8:00 AM to 11:00 AM

Calendar:

Seniors at the VAC

Calendar:

Seniors at the VAC

Time:

8:00 AM to 11:00 AM

Calendar:

Seniors at the VAC

Calendar:

Seniors at the VAC