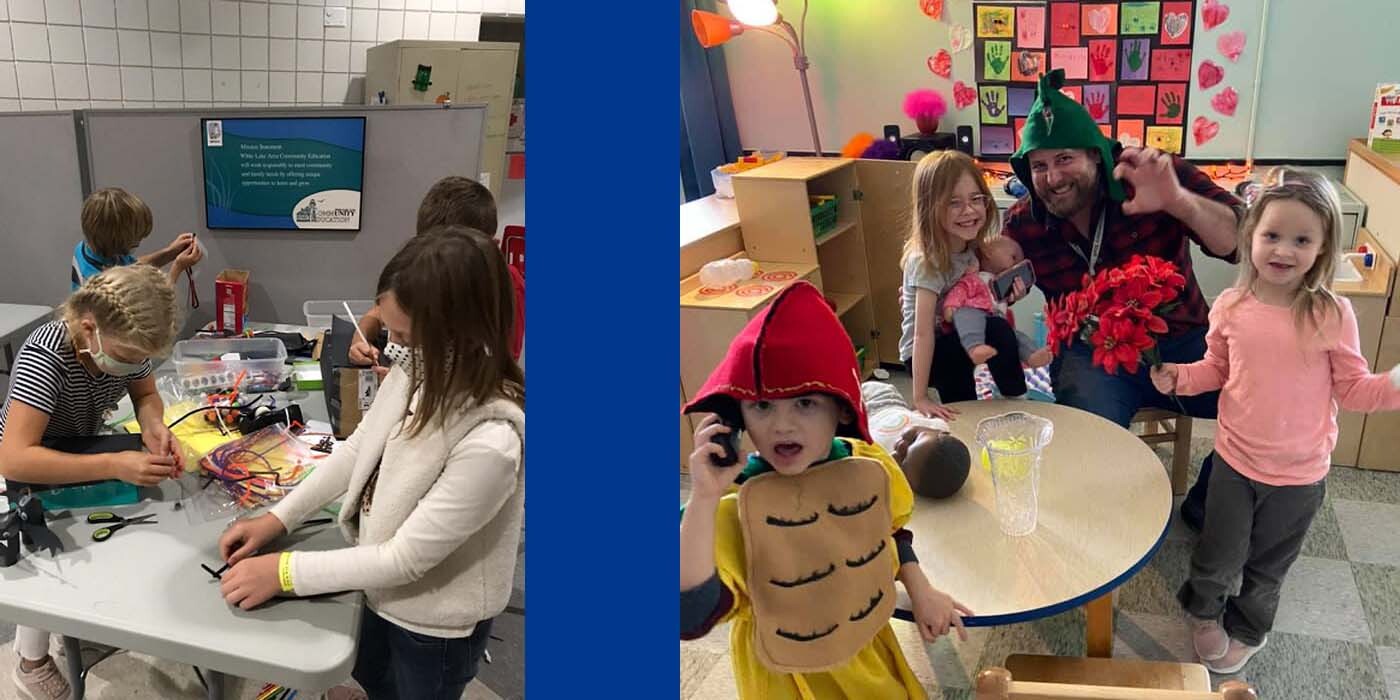 Preschool Registration
We are still registering three and four year olds for our Whitehall, Montague, Holton, Reeths-Puffer and North Muskegon Great Start and Head Start preschool classrooms.
Students may be eligible for free preschool or a low tuition rate depending on income levels.
You may call 893-1091 or 766-3443 to speak directly with one of our enrollment staff.
You may also email our staff at: preschool@wlace.org with any questions.
Our Mission...
White Lake Area Community Education will work responsibly to meet community and family needs by offering unique opportunities to learn and grow.
Working collaboratively with community members, community service agencies, municipalities, colleges, businesses and other partner organizations, WL community education provides programs and services designed to improve the quality of life in our community. Our focus is on supporting and strengthening community and family.
WLACE operates under a cooperative agreement between Whitehall, Holton, Montague, North Muskegon and Reeths-Puffer school districts.
Upcoming Events

Time:

8:00 AM to 11:00 AM

Calendar:

Seniors at the VAC

Calendar:

Seniors at the VAC

Time:

12:30 PM to 2:30 PM

Calendar:

Seniors at the VAC

Calendar:

Seniors at the VAC

Parmenter Law and Elder Law Services

Location:

Viking Athletic and Activity Complex, Whitehall, MI 49461, USA

Calendar:

Seniors at the VAC

An Elder Law Paralegal for Attorney Anna Urick-Duggins of Parmenter Law, will offer half hour no-charge introductory meetings every second Tuesday of the month from 1:00 PM-3:00 PM at the Viking Athletic Center (VAC).

Topics to discuss include Elder Law services such as Estate Planning, Long Term Care Planning, Medicaid Planning and VA Aid & Attendance.

You must reserve your spot by calling (231) 722-5400 to schedule an appointment.

Calendar:

Seniors at the VAC

Time:

8:00 AM to 11:00 AM

Calendar:

Seniors at the VAC

Calendar:

Seniors at the VAC

Time:

12:30 PM to 2:30 PM

Calendar:

Seniors at the VAC

Time:

8:00 AM to 11:00 AM

Calendar:

Seniors at the VAC

Calendar:

Seniors at the VAC